Why Detroit is Different?
The state of local news in Detroit is in crisis.
According to the latest U.S. 2020 census, Detroit's current population is 639,111 with Black people making up 80% of the Motor City's residents. But as much as Detroit media needs the voice of Black people to provide authentic stories about issues that impact their communities and reflect their perspectives, Black people are grossly underrepresented in the newsrooms of all Detroit media outlets.
The bulk of metro Detroit gets its news from two daily newspapers, The Detroit News and The Detroit Free Press] and three local television stations [Fox 2 Detroit, WDIV Click on Detroit, WXYZ Channel 7, and 62 CBS].
According to a 2018 American Society of News Editors survey, employees of color make up 26 percent of full-time staff at The Detroit News, and 27 percent of the Detroit Free Press.
When it comes to television, by in large, Black journalists make up an even smaller percentage of the news anchors and reporters in Detroit. At Fox 2 Detroit, 8 of 31 newsters (25 percent of all on-air news personalities and reporters are Black, and two of them are meteorologists). Similarly, at WXYZ-TV, 8 out of 32 (25 percent) of newscasters or reporters are Black. The number of Black anchors and news reporters is only slightly improved at WDIV Click on Detroit which has the highest percentage where 9 of 29 (30 percent) of its news anchors and news reporters are Black.
The reasons for the racial imbalance in Detroit newsrooms are varied and numerous:
The absence of Black people in positions of power (i.e. editors) to determine the stories that are covered and the reporters who are assigned to cover them;
Reduction in the number of media outlets due to buyouts and mergers;
Shrinking Staff – Case in point, take the Detroit Free Press. In 1995, Detroit Free Press had 350 journalists on staff compared to just 89 in 2019;
The declining revenue has forced many news outlets to close their door. One example is The Michigan Citizen, a weekly newspaper published in Detroit, which closed in 2015 after 30 years in business.
a Lot of Studio 2021 Images … the EXPERIENCE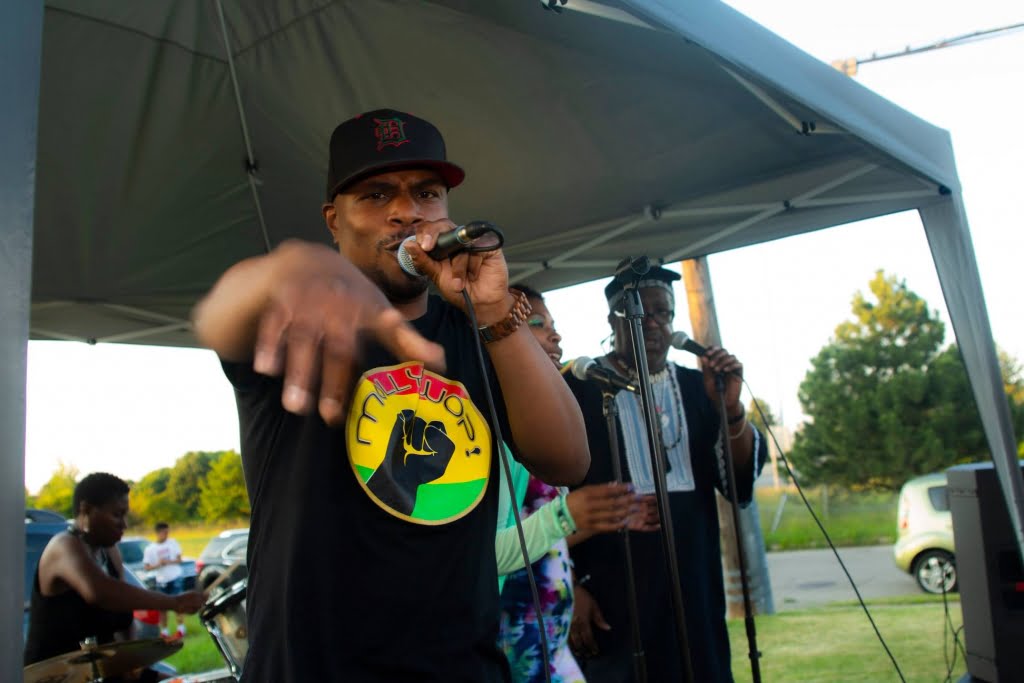 a Lot of Studio 2021
The inaugural 'a Lot of Studio' live podcast and entertainment performance series was conducted by Khary Frazier. Following the successful launch inaugural season of "a Lot of Studio", we realized that we needed deeper pockets to finance the ambitious goals with of 'a Lot of Studio'. Personal and business advisors informed him that his initiatives for 'a Lot of Studio' could attract funding from government, private foundations, and the philanthropic arms of major corporations if Frazier founded a nonprofit corporation to produce the 'a Lot of Studio' live podcast weekly summer series. Equipped with this additional insight, Frazier and his newly appointed Board of Directors approved and filed non-profit Articles of Incorporation for Detroit is Different Community Group were filed in the State of Michigan on November 12, 2021. The sole purpose and function of the Detroit is Different Community Group is to produce the "a Lot of Studio" weekly live podcast summer series, One hundred percent of Detroit is Different Community Group's time will be devoted to planning, organizing, developing, and producing 'a Lot of Studios live outdoor podcast and entertainment performance series.
All of the 'a Lot of Studio's' live podcast and entertainment performances and urban gardening are conducted in four vacant lots located adjacent to 1652 Clements Street in Detroit, Michigan. The vacant lot is owned by Khary Frazier. There is no charge to the organization to utilize the vacant lots. There
is no charge for individuals to attend the 'a Lot of Studio' live podcast "episodes.
Impact of a Lot of Studio
'a Lot of Studio' is the project that further ingratiates Detroit is Different with community and media. 'A Lot of Studio' is transitioning a physical space into a virtual platform. Repurposing a vacant lot into a production studio with live audience recording is what 'a Lot of Studio' will be. The experience attendants enjoy at Warner Bros., Universal Studios, and Fox will now be in the heart of Westside Detroit's Hope Village neighborhood. This enhances the current condition which some label as blight and offers the community an opportunity to engage with evergreen media.
'a Lot of Studio' will be a neighborhood hub residing on property donated from Detroit is Different founder Khary Frazier. Frazier lives at 1640 Clements and offered his family home of 1652 Clements to Detroit is Different as the indoor incubator space for creativity in 2017. "In 2020 I began my neighborhood garden. Now I want to empower my garden with more of my skills, talents, and community by adding what I do best … grassroots media," Frazier.
As guests enjoy live podcasts and performances vegetables, herbs, and fruit from the Detroit is Different garden will be distributed and shared with the community. We will document this vacant lot activation so it can be studied and replicated in other parts of Detroit and throughout Black America.
a Lot of Studio Projections
Once a week attendants will join a live audience for Detroit is Different podcasts. The experience will have a collection of 8 podcasts and 8 music performances live in a Detroit community garden. Weekly attendants will have the chance to enjoy Vegan food provided by Big Ma's Coney Cart, live performance, live podcasting, Black culture, and community engagement welcoming a collection of 100 participants throughout the season (performers, podcasters, event producers, gardeners, and Detroit is Different staff). Weekly attendance is expected to draw between 100 – 250 guests on-site. Virtual attendance will be available in podcast audio and video welcoming another 500 – 1,000 weekly guests as the season is edited and sent. Social media advertising, promotional push, publicity, and sharing will reach an additional 5,000 – 10,000 people weekly. Collectively 'a Lot of Studio' is projected to capture between 7,200 – 15,000 attendants and reach between 60,000 – 100,000 people.
– photos from a Lot of Studio 2021: above Lot, Khary Frazier & Garden Boxes 2020, a Lot of Studio 2021, Poet Joel Fluent Greene (Men's Natural Hair live podcast a Lot of Studio 2021), Singer Terri Shu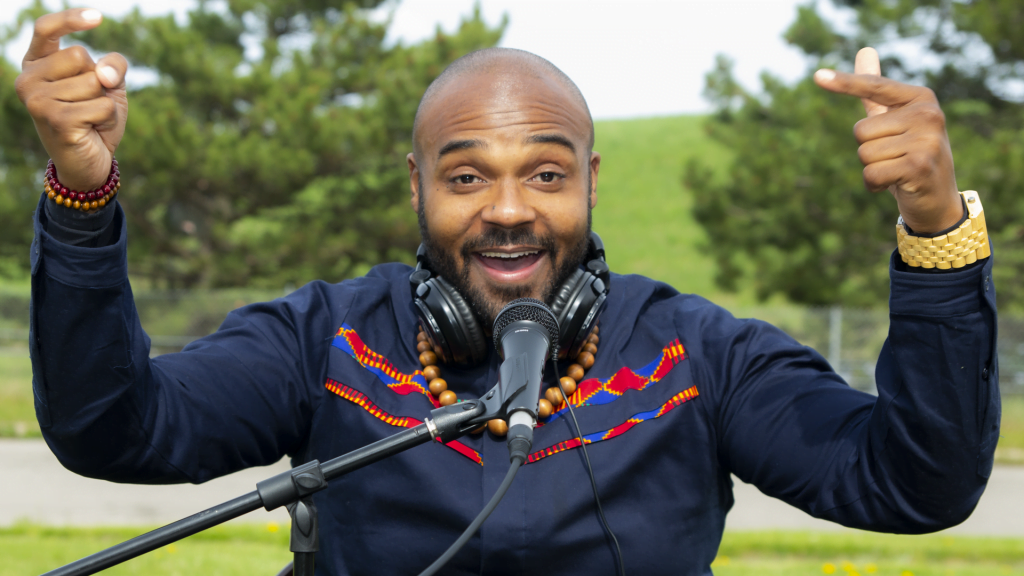 What You get from Supporting a Lot of Studio?
This is what a Lot of Studio gives:
Your partnership with a Lot of Studio is positioning yourself, your business, and/or your organization with a truly grassroots initiative. The work of Detroit is Different connects a mix of cultural content creators, urban gardeners, live performers, thought leaders, and legacy Detroiters to dynamic programming inside a Detroit neighborhood.
What Partnership provides You:
Opportunity to access social equity- Provide community-based groups the opportunity to showcase their commitment to fairness and justice and inclusion
Opportunity to reach/connect with a grassroots audience of legacy Detroiters that don't rely on messaging/ connected to mainstream media
Opportunity to value show value and understanding to a culture that may not be your own- Just because it's not your culture doesn't mean it's not a valued culture
Combination of various existing concepts/programs in the city
A place for Black Thought
Empowering Black Voices
Neighborhood-based- not just downtown and midtown
Can you imagine being in a place where black voices are elevated and our community thought leaders are sharing their expertise and insights to uplift and engage with residents inside our community as a whole?
a Lot of Studio is this place in our majority Black resident city with minority Black leadership economically and infrastructurally.
The richness of our collective culture, people, and creativity outweigh what society labels as poverty.
a Lot of Studio is a rare opportunity to connect intrinsically with a legacy Detroit community through a group of legacy Detroit artists and organizers.
Return on Partnership:
Expand your social equity reach- an opportunity to engage with a more diverse population- an opportunity for inclusion The creation of content to be shared on your social media platforms
New followers connecting to your brand
Your organization's Logo created on all print and online materials
Visual selfie logo props of each sponsor for participant selfies
Ad a Lot of Studio program booklets